Excess sodium can be a major contributor to heart disease and stroke, raising blood pressure and causing plaque to accumulate in the blood vessels. Certain factors, such as age, gender, race and ethnicity, may influence the impact of sodium on your blood vessels, making it important to understand your genetic as well as lifestyle risk factors.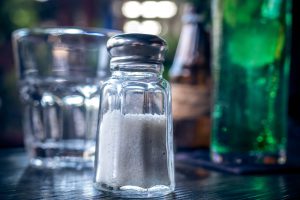 An estimated 90 percent of Americans consumes more sodium than the daily recommended allowance. So if you suspect that there's too much sodium in your diet, you're probably right.
Read on for 5 ways to lower your daily salt intake, courtesy of the American Heart Association.
Read labels
When we talk about sodium, we're not talking about salt from the shaker, although that's something to watch too. More than 70 percent of the sodium we eat every day comes from restaurants or prepackaged foods. That's why it's so important to read and understand labels – not only on salty snacks, but condiments, meat, and even "health foods."
Buy frozen, not canned
Canned vegetables are often very high in salt. Frozen are fresher, cheaper, and healthier. For canned beans, drain and rinse well before cooking or serving.
Add other sources of flavor
When cooking, use herbs, spices, garlic and vinegar to add flavor, and always taste food before adding salt.
Eat potassium-rich foods
Potassium naturally counters the effects of sodium in the body and may lower blood pressure. Incorporate foods like bananas, sweet and white potatoes, tomatoes, cantaloupe, white and kidney beans and oranges into your diet.
Transition slowly
If you find that you miss the flavor of salt, start by mixing low-sodium and regular foods, or by adding just slightly less salt to your dishes. Next time, add a little less. You'll be enjoying low-sodium food before you know it!
HeartCert CPR is your trusted training partner for First Aid and CPR in the Twin Cities and throughout Minnesota. We now offer online, night and weekend classes to fit your busy schedule! We offer a variety of courses, including CPR/AED/First Aid and CPR/AED, Basic Life Support (BLS), Advanced Cardiac Life Support (ACLS), Pediatric Advanced Life Support (PALS), and Emergency Medical Responder – First Responder (EMR).
Find your CPR class at any of our convenient Twin Cities locations, including our new headquarters, HeartCert CPR Eagan.